Najman family
OPG Najman has gone from a hobby to a top business. The married couple Štefica and Dragutin Najman bought a plot of land with a cellar and a vineyard on a gentle hill above Varaždinske Toplice in 1983 in order to escape from the apartment and the city bustle of Varaždin to nature on weekends and rest their souls while working. Stefica was a merchant, and Dragutin a builder specializing in tunnels and bridges. The love for nature and the desire to create something with their own hands that they will enjoy resulted in quality wines that were very quickly recognized among friends, and then began to receive awards at competitions.
Dragutin loves red wines, so he immediately planted Pinot Noir with Graševina, and gradually other varieties – Rhine Riesling, Pinot Blanc, Sauvignon, Muscat Yellow, Zweigelt and Portuguese. The hobby was gradually turned into a business, so today they have two and a half acres of vineyards and ten thousand vines on several plots. They annually produce 25 to 30 thousand liters of wine, which are mostly sold in bulk on the local market, mostly in Varaždin and Varaždinske Toplice, and since three years ago also in bottles as high quality and top quality.
– When you get to know the vineyard and see what he wants and what he needs, then he gives good results. We are a small farm, we try to keep this hobbyist approach so as not to lose the love and pleasure with which we turn nectar from grapes into wine.

Dragutin Najman
The vineyards, the cellar and the beautifully decorated client are located at Kubilšćak in Futač, on Toplička vinska cesta, three kilometers from the city center.
Futač is a hill after which the wines got their name, but also the Zagorje name for a beautiful migratory bird with a long beak, brown color, wings dotted with black and white stripes and a large hook on the head, officially named pupovac. It coincided nicely, so the character of a bird was used for the visual Najman vina, to which the Kajkavian motto "A kaj ve" was added, which gives the story a striking indigenous flair, because for a long time not only the quality of what is in the bottle but the product as a whole is important for success. – both content and form.
Something else matched the Najmans nicely – the sons-in-law. One of their daughters is a professor, the other an economist and a translator, and the sons-in-law love wine, challenges and socializing. Siniša Hajsok left his job as an electrician 12 years ago, retrained as a winemaker and professionally joined the family farm. Mario Oblak is an experienced chef and a graduate cheese sommelier. He studied in Varaždin, Graz and Paris, ran several restaurants, some of which are listed among the 100 best in Croatia, worked as a gastro promoter in Vindija, and for two years was an instructor at the Culinary Academy of the Croatian Association of Chefs. – I am the son-in-law who prefers parties, drinking and eating. The second son-in-law is the chief vincilir, around the vineyard. He is the one who creates, and I spend, Mario jokes and adds seriously: – As he gets top-quality wines oenologically in the cellar, so I try to pair them with food, and especially with cheeses so that consumers have a complete experience. It is important that the cheese does not overpower the wine or vice versa, but that it all goes well together and that we have a wonderful taste. We do not insist, we just give recommendations, everything else depends on subjective experience.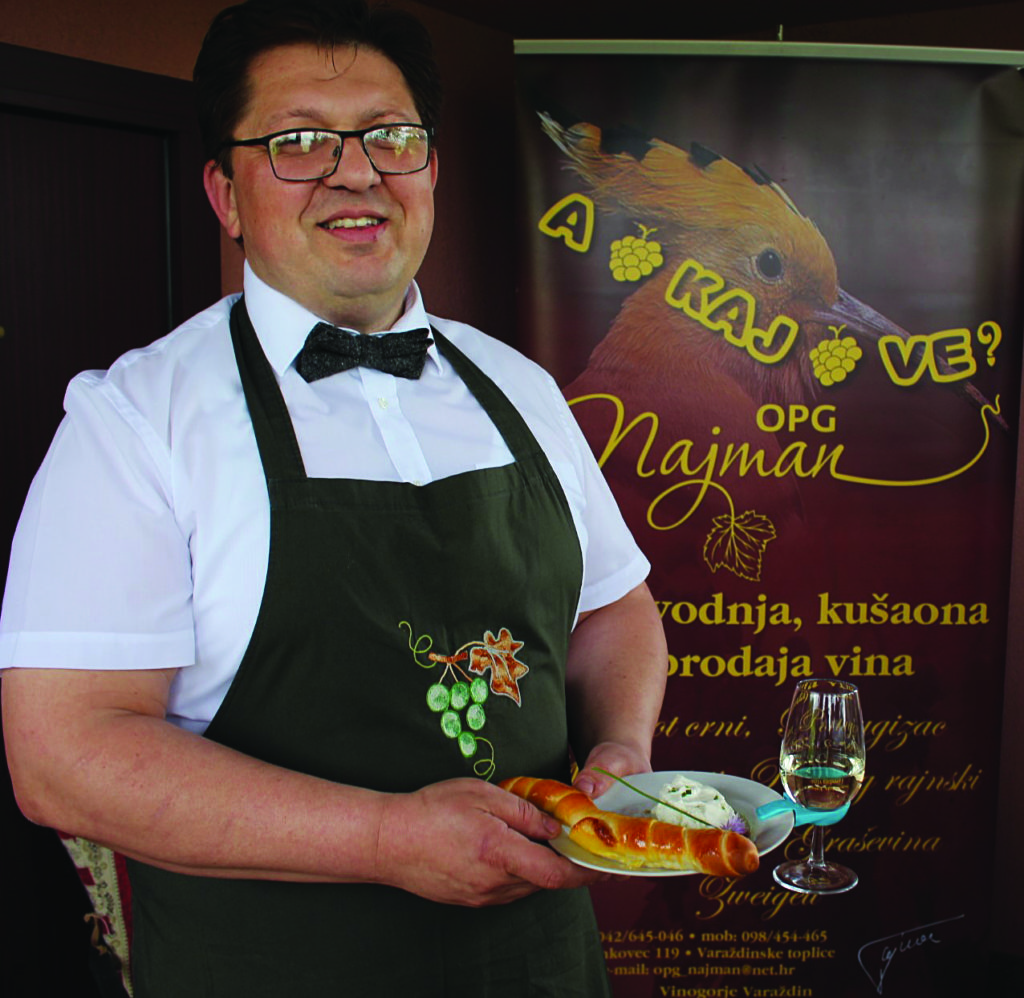 History
OPG Najman has existed since 2006. We are engaged in viticulture and winemaking. We are currently cultivating approximately 2.5 ha of vineyards of the following varieties: Graševina, Rhine Riesling, Moslavac, Sauvignon, Pinot Noir, Prtugizec and Muscat Yellow.
We fill wines from these varieties into bottles, and we sell a white cuvee called Toplička Iskra in bulk. We also offer Pinot Noir rose, as well as rose sparkling wine. also of the Pinot Noir variety. The wines aged in the Najman Winery are in the category of quality wines, they are fresh and edible.